Some weeks I participate in Share Your World, a weekly blog challenge some of the cool kids I know take part in. Welcome to a wee part of Tara's world!
Do you prefer eating foods with nuts or no nuts?
It depends on the food. Salad = no. Granola bar = yes. Chocolate = most definitely.
Do you sleep with your closet doors open or closed?
Uh, CLOSED. Are there freaky people who don't mind the door being even slightly ajar? *shudder* Haven't they heard of the CLOSET MONSTER? (See: The Lost Boys and Dianne Wiest acknowledging her son's need to have the door closed and that she does, too. In fact, she claims one of the reasons she divorced his dad is "because he never believed in… THE CLOSET MONSTER!")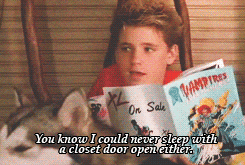 Are you usually late, early, or right on time? 
I'm ridiculously early. I'm sooooooo early, I'll drive some place I've never been the day before I'm supposed to be there just so I know where I'm going and how long it will take to get there. Early's on time, people. Late? If it's your usual M.O., don't even bother. I once sent a male suitor back, mid-drive, as he called for, like, the third time to explain that he was on his way, but would be late. Uh… no.
What did you appreciate or what made you smile this past week? Feel free to use a quote, a photo, a story, or even a combination.
STEVE PERRY IS BACK! I never thought I'd hear that voice from Journey again. His new album drops, as the kids say, in early October. If he tours, he only has to play ONE Journey song — ANY Journey song — and I'm totally there.
---
This post is part of Share Your World, a weekly blog event, by Cee (click to join in!).