Some weeks I participate in Share Your World, a weekly blog challenge some of the cool kids I know take part in. Welcome to a wee part of Tara's world!
What is your earliest memory?
Sitting in the corner of the couch watching people watch me open my Oscar the Grouch puppet on my third birthday. I love Oscar. I was one happy camper that day.
Which way does the toilet paper roll go? Over or under?
O.V.E.R. AND! When I leave the room, I always dangle the end down off the roll so the next person can use it easily. I haven't yet started making those triangle ends I get when I stay in hotels, but I might! Just don't expect a bird-shaped hand towel.
What makes you feel grounded?
Literally: Curling my toes and pushing my feet into the floor (great for dealing with anxiety). Also, deep breaths and music, which always bring me back to the present moment.
What inspired you or what did you appreciate this past week?  Feel free to use a quote, a photo, a story, or even a combination.
I appreciated the enthusiastic comments on my A to Z Challenge Theme Reveal post. That was unexpected! I also appreciated being told and shown that I'm appreciated at work. Such a 180 from the last one! I don't need pats on the back — I do what's expected, but it's nice to hear you're doing a good job every now and then.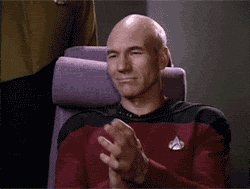 ---
This post is part of Share Your World, a weekly blog event, by Cee (click to join in!).