Welcome to my #DSFWeeklyRewind post for this week. So how was it?
The earth is tilting back so summer people will be happy sooner rather than later. It rained most of the week. The Olympics in on a loop of this is so not a sport and skaters do all the same tricks. Work is work. Who's been sleep-ish most of the week and is sooooo ready for the weekend? Show of hands?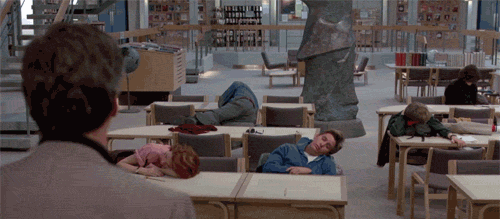 (That's me in the back there, introverting and wearing black.)
Punxsutawney Phil, the prognosticating Pennsylvania groundhog, predicted another 6 weeks of winter on Feb. 2. Since he made his prediction, of course it's been sunny or spring-like rainy, and one day last week is was 77 degrees. The air conditioner was turned on at work. In February. I tell you this not to be a pseudo-weather person, who is right as often as Phil is, but because this weather is wreaking havoc on me. My sinuses react to the changing pressure and whatever else is out there… a slight headache moved from the left side to the right side throughout the week. Every night after work then became "Well, I could do (whatever), but maybe tomorrow night," then I put PJs on and planted myself on a lounging surface until time for night night.
I did expend mental energy on Jeopardy! I also signed up for the test to get on the show (again). I try every year. I keep hoping for test categories as simple as ones that sometimes show up on the program, like Name the Kardashian. Instead, they torture me with Greek or Roman gods, presidents 10 through 20 (who remembers?), and Countries of Africa, which I am now studying a map of in order to be better prepared.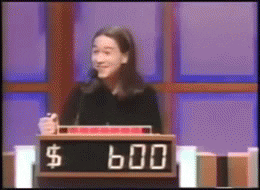 That's a teeny tiny Joseph Gordon-Levitt! Everybody: awwwwwwwwwwwwwww.
I'm such a bore this week. Good thing I had the Olympics to keep me company. Oh, wait, they were boring, too. Yes, I know an exciting women's hockey game happened but way past my bedtime. I also can't find the curling when it's on and apparently that has been exciting, too. I've just been inundated with skiing, the endless ways you can do flips on skies and snowboards, and figure skating. Skating is now known as the sport I used to love, but I think I'm done. Is it because of the stupid way they score things now? No, though I don't like it. It's because I watched figure skating every night it was on, and it was on for four hours each time. It's like when I ate Stouffer's Macaroni and Cheese daily and the time I ate bologna sammiches daily, and then one day, I woke up and said, "NO MORE!" to each. I might have had my fill of figure skating. Perhaps if I fast for a time, I'll be able to watch again… a long, long time from now. I, however, will never tire of this man, the lovely and talented Adam Rippon.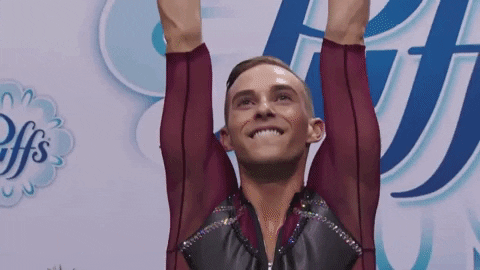 I managed to write one post on Monday. Read Share Your World ~ Fifteen and learn a bit more about me!
#DSFWeeklyRewind is a weekly linkup for Twitterites and other bloggers who want to share their week, perhaps with a dash of creativity, and some gratitude. Join in. Share. Connect.

If you'd like to do a #DSFWeeklyRewind post, see the guidelines here and post your link in the comments (or ping back to this post, if you're on WordPress.com).
As usual, I'm gratitudinous. This week, I'm grateful for:  air conditioning; comfy clothes; my Snow Day all-natural deodorant from Schmidt's — the only reminder that it's still winter this week; delicious Chinese food; TV off buttons; windshield wipers; and, as always, my BFF, sleep. If there was an Olympic competition for sleeping, I would totes win.
Well, unlike those kids in the first gif, I'm not in detention, so I'll begin enjoying my weekend….. ….. …. NOW! May you weekend however makes you happy. May you find little snippets of happiness along the way. And may gratitude fill your heart with joy in a fiercely Adam Rippon way.
Until next time, peace.
---
Join in. Share. Connect. See the guidelines here. And don't forget to comment with the link to your DSFWeeklyRewind post or ping back (on WordPress.com).