If you'd like to do a #DSFWeeklyRewind post, see the guidelines here and post your link in the comments (or ping back to this post, if you're on WordPress.com).
Join in. Share. Connect.
---
Welcome to my #DSFWeeklyRewind post for the week ending January 12, 2018. So how was my week?
If only life were like Star Trek (any incarnation) and I could go back in time at will. This morning, I would travel back in time a few months to thank Past Me for choosing this weekend to take some days off (Friday and Monday). Of course, I was at The Last Job when I did so, so it was a respite rescue mission meant to preserve my sanity. But now, having been at The New Job for three weeks and a half day, it's just a four-day reprieve to catch my breath and assimilate new information whilst doing exactly what it is I want to (and writing) all weekend long. Thanks, Past Me!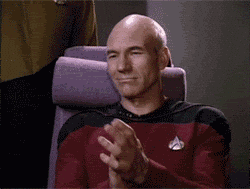 This also means, for people playing the home game, that by the end of next week, I will have worked four four-day work weeks in a row. That's a solid month of long weekends thanks to holidays and Past Me's efforts. Wow. The week of Jan. 22 may be trying. Five days? In a row? I'll try… … …
Of course there's this thing that happens seemingly every time I take days off. Other people take that to mean Days When You Can Do Things for Me. Understand, there are many days and nights when I do in fact Do Things. But my days off, the precious few I get each year, are for ME. The week before the new job: ruined by the aforementioned as well as holiday angst that was not my own, and that's just the latest example. I've already said this out loud to repeat offenders, but I'm putting this out there for the Universe as to summon its assistance: NOTHING WILL INTRUDE ON THIS WEEKEND OF ME. As far as anyone I know is concerned, I'm on a desert island, called Me, where there is no cell service (no calls, no texts — especially no texts. I HATE TEXTS). I am unavailable. I am invisible. Put whatever you want to tell me in a bottle and throw it in the ocean. If it reaches the island of me, it will at least be after my four-day weekend.
I really should put this on a shirt or something. Introverts can or cannot fly the coop on days off to escape. If they do, leave them be. And even if they don't, their presence in your orbit does not mean they're available. Why is that so freakin' difficult to understand for some people?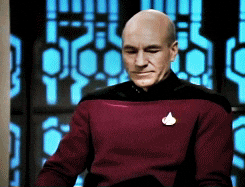 Anyway… So…
Week three of The New Job has come to a conclusion and so far, things are going well. Learning curves: it's a good thing I don't get seasick. It's cool though, yo. I learn quickly and there are people there who are making it fun. Imagine that: people at work who are fun. A foreign concept to me for some time, but now I'm all, oh, yeah, I remember it can be like this…
As predicted, also by Past Me when discussing Day 1 of The New Job with Present Me (that day), time is already flying by. The first day flies, then a week, and now, it's almost a month. Already!
Starting a new job in the new  year is neat. It makes it easy to keep track of days off and such and a new beginning in a new beginning… it's so meta! My plan (of course I have a plan — I'm an INFJ)… my plan was/is — once I get the work thing down fairly well, you know, for a newbie, I'll start adding other fun things, classes, etc. I have to find out about the drum lessons I want to take, mentioned previously by me as a way to do fun therapy for my healing broken wrist, and because I think as you get older, you're supposed to do stuff you did when you were a kid again (so I'm right on schedule there). Artist interpretation: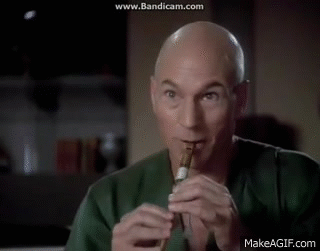 And speaking of time flying and Already! and my broken wrist, I am proud to announce that I tied my shoes this week for the first time since The Roller Skating Incident of October! *confetti falls from the ceiling* Ms. Wristy is bending more and more, but not as far as the other one yet, of course. But can you believe the incident was 12 weeks ago? Already? Already! I know!
And now, it's already time for This Week's Bloggy Goodness:
And as usual, I'm gratitudinous. (I always include gratitude in my #DSFWeeklyRewind and those who write a #DSFWeeklyRewind post must include at least one thing they're grateful for).
This week, I'm grateful for: paid time off; new adventures; people who get me; friendly work peeps; bloggy peeps; wise fortune cookies; Past Me; Present Me; Future Me; words (I started writing something new this week, people!); winter light (the color, not the length); straws that are tall enough for my Purple Prince (my name for it) 20oz. reusable beverage holder (thanks, Starbucks!); music, music, music; and dancing.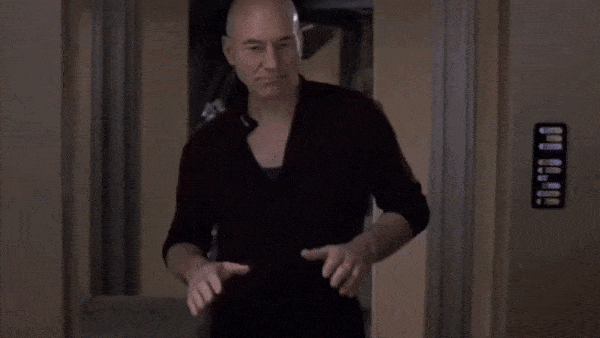 Whatever you do this weekend, whether it's four days long like mine or not, I hope it's pleasant and filled with whatever your heart desires. Make it so.
Until next time, peace.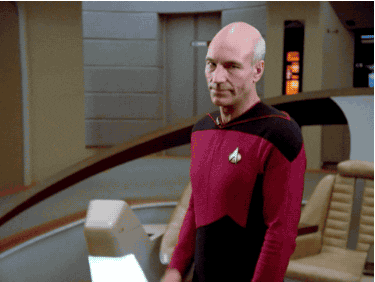 ---
Join in. Share. Connect. See the guidelines here.