Welcome to my #DSFWeeklyRewind post this week!
So how was my week?
This week was all about 3 Ms: mellow, merry(making), and mirth. Alliteration alert! (And I hope the GIFs show up!)
But first, I wanted to share: I rocked last weekend as only a true nerd can do — watching C-Span's coverage of the Masterpiece Cakeshop v Colorado Civil Rights Commission oral arguments before the United States Supreme Court. Watching really meant listening as there are no cameras in the courtroom, but C-Span courteously provided photos of the speakers. I felt all Franklin Roosevelt-fireside-chatty, and super nerdy. THIS is how I rock my weekend. And nay, Paris Gellar. You're wrong: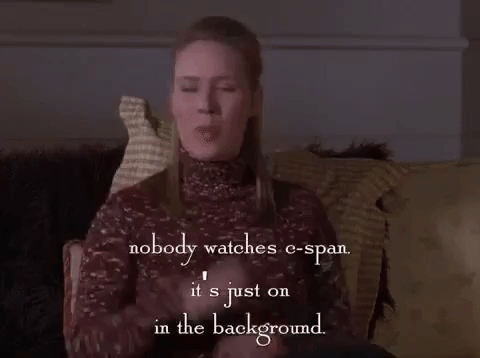 After that, my week began with plans for no real plans, except to be mellow, which led to the merry and the mirth.
It's a good week, a week in which you have not much else to do except chill whilst wearing PJs a lot of the time (mellow), to get the holiday stuff done. So for a few days, I wrapped, I finished shopping, I addressed cards.
Artist interpretation of me during holiday merrymaking:
In between the merrymaking, and once it was complete, I enjoyed more mellow and mirth. That meant watching The Marvelous Mrs. Maisel (by Gilmore girls creator Amy Sherman-Palladino) on Amazon Prime (free trial!). It's about a 1950s housewife who, after her husband leaves her for his secretary, tries to become a comedian. I like (not love) it, but I have 2 more episodes to see in season 1, so… I love the clothes, I know that, and I'm not an into-fashion kind of girl. BUT! Clothes equal character and the costume designer for this one should be commended. Right?
More mirth materialized when I stumbled upon the podcast Live from The Poundstone Institute with comedian Paula Poundstone. I've always found her amusing (I interviewed her four times in my previous journalist life as well). I listened to the last podcast of the "semester" and enjoyed it, so I'll be spending time listening to the others she has done. Me, listening to a podcast! Tara joins the 21st century! AND I found it only a few months after she started it, not years later, as is my norm (same with Mrs. Maisel — is my being on trend a trend? Time will tell).
Oh, I forgot something that added to the mellow — it snowed last weekend. I managed to take some photos early this week, before the melting occured. See?
Seeing the snow and listening to its quiet… totes mellow. One of my favorite things.
As per usual, this week featured some bloggy goodness!
No Bones About It, on my 8-week Injur-versary. I now also can report: I can applaud a little and also blow my nose with both hands. I had mastered the one-hand nose-blow, but this is soooo much easier! My wrist leans a little forward and backward, but no official bending yet. I do my exercises faithfully.
Thursday Doors: Farm in the Snow. MORE SNOW PICS!
And, of course, I'm gratitudinous, for: exfoliating soap (for my formerly casted skin); that Lefty is doing so well and getting her strength back; giving myself permission to vegetate even more as I close the door to the past before opening a new door; heat (it was COLD this week); Mom's Chick-fil-A delivery service; big red bows with dangling curled ribbons I got at the dollar store… for a DOLLAR; music, my everyday companion; and my all-time favorite Christmas commercial, which I keep seeing. Enjoy:
The merrymaking is complete until the actual Day of Merry in a couple of weeks. To return to the mirth and the mellow! Wishing you all the 21st century technology and entertainment that makes you happy this weekend, and hoping you're done with the the merry-go-round of merrymaking sooner rather than later (if you're not already).
I'm going to go see what C-Span's programming so I can rock this weekend, too.
Until next time, peace.
---
If you want to do a #DSFWeeklyRewind post, see the guidelines here and post your link in the comments (or ping back to this post, if you're on WordPress.com).